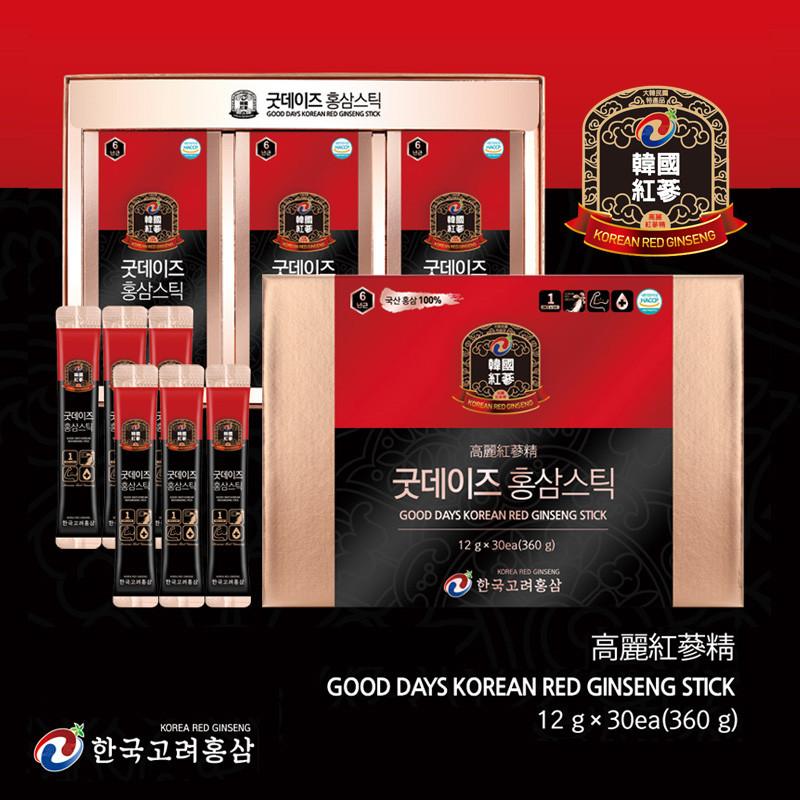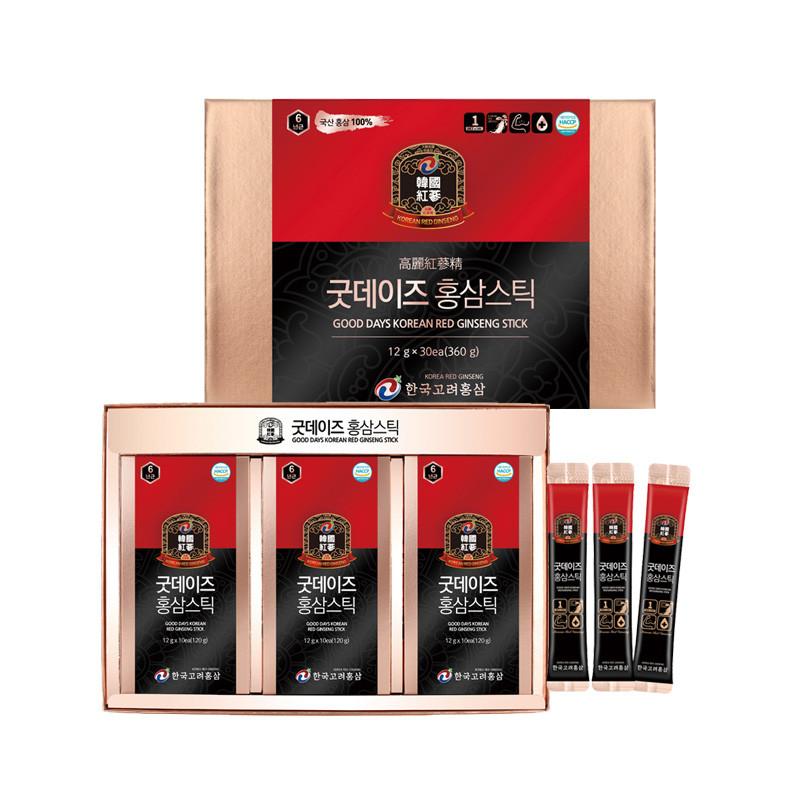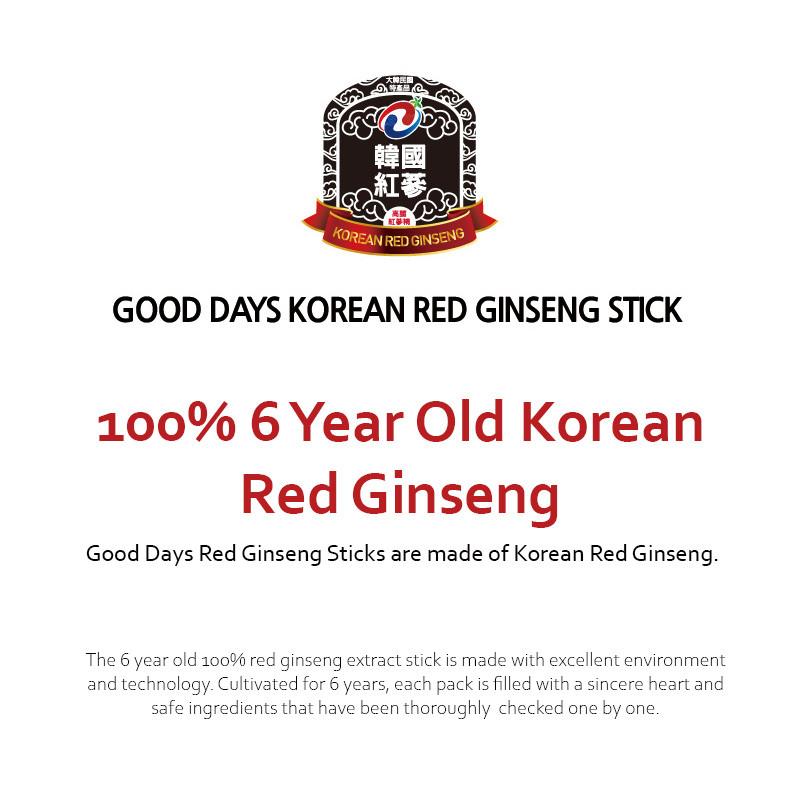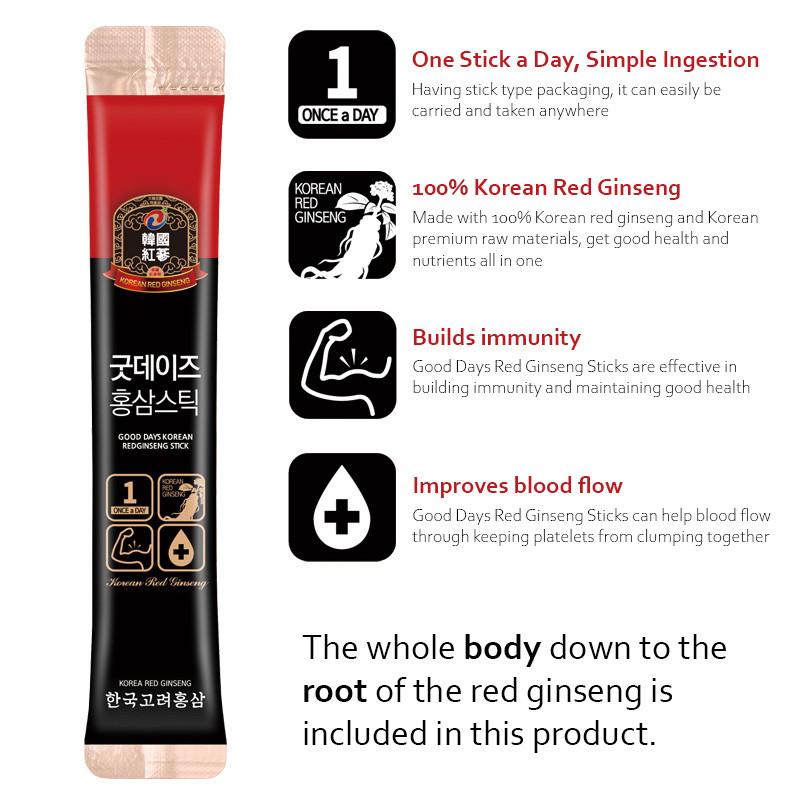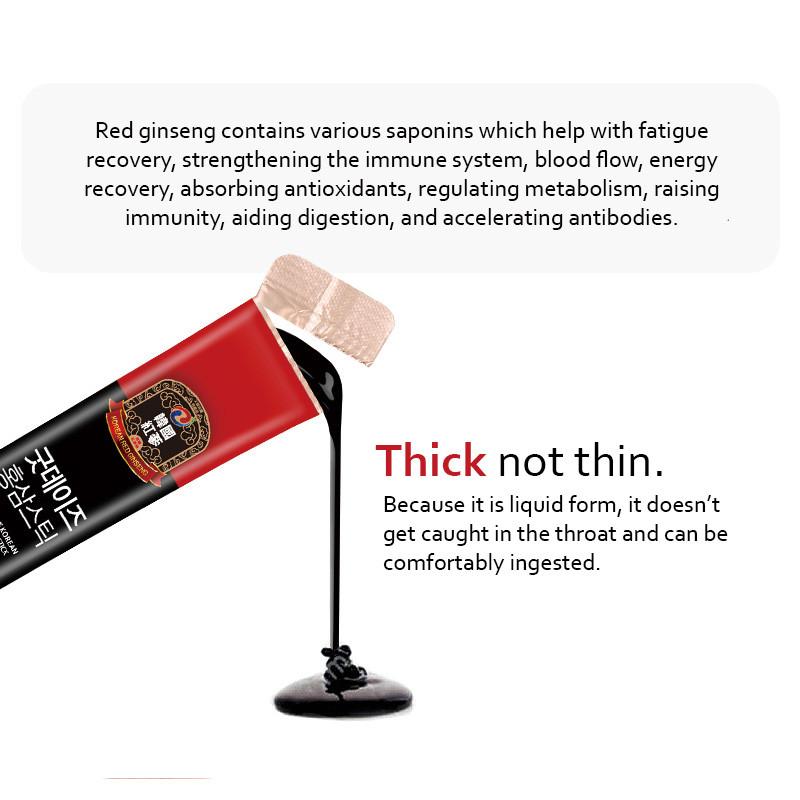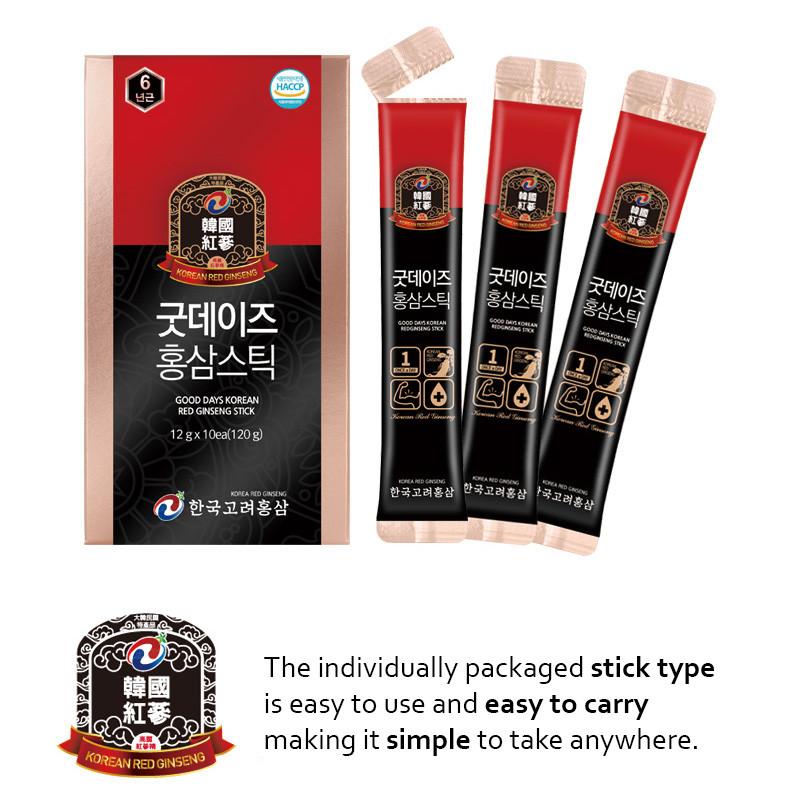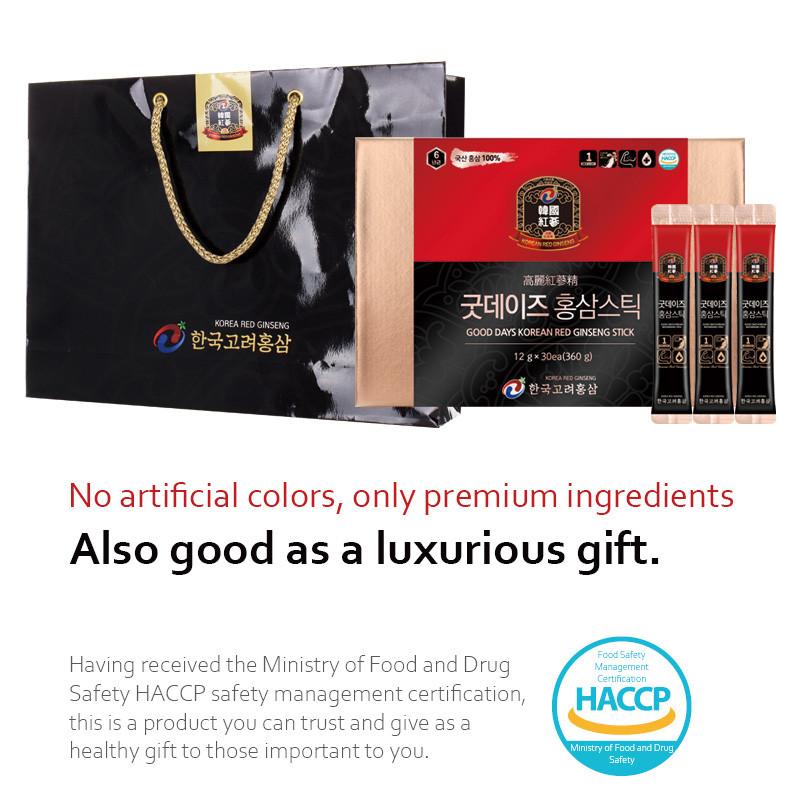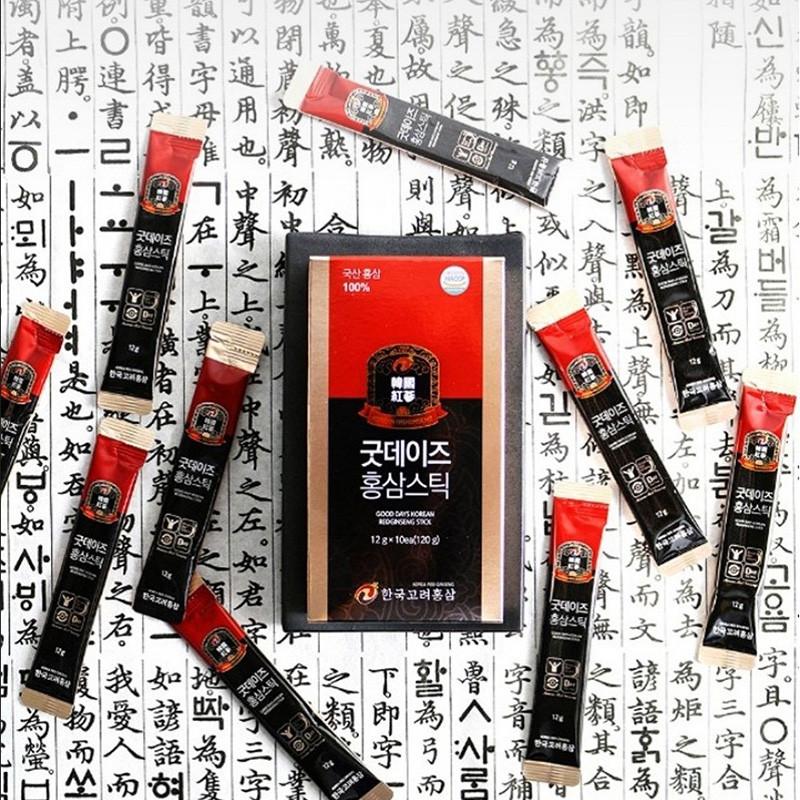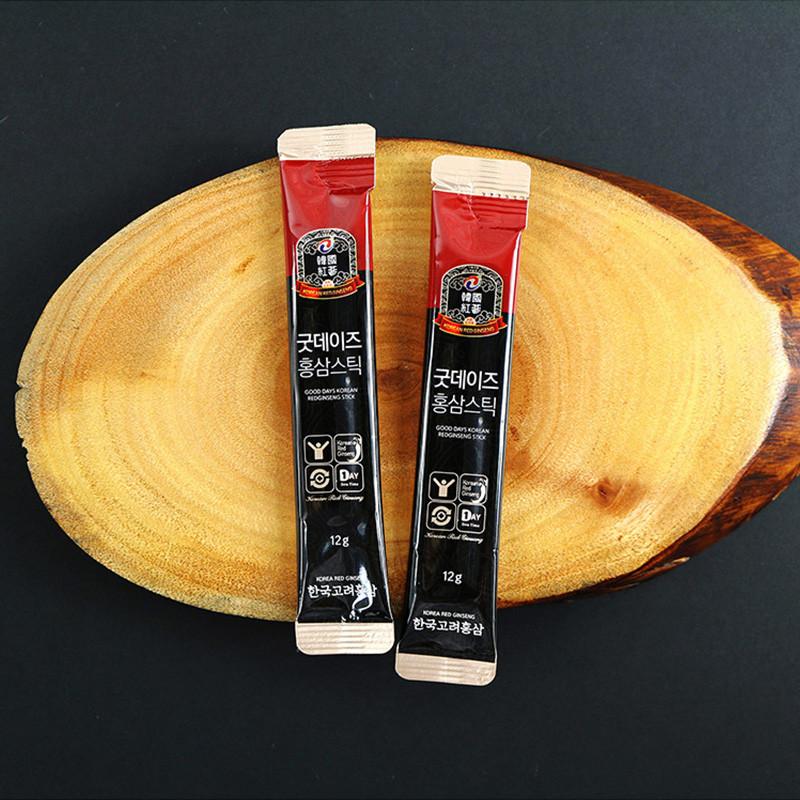 Healthy blood flow, Refreshing fatigue with one bag a day!
Korea Red Ginseng Red Ginseng Good Days.
[Use of 100% Korean 6-year-old red ginseng]
HACCP Certified from the Korea Food & Drug Administration
Hygienic Individual Stick type – Easy Cut Product – Easily to Eat Anywhere, Anytime
Type : Liquid Extract ( Stick type )
Package Included : 12g X 30 Sticks ( 360g )
Effect : Helping Healthy Blood Flow, Strengthen Immunity
Direction :
– Take 1 stick ( 12g ) once a day for Adult
– Take half stick once a day for under the age of 15
Ingredients : Red Ginseng (Korea) 10%, Ligusticum chuanxiong HORT (Korea), Jujube (Korea), Angelica, Rehmannia glutinosa, licorice
Storage : Avoiding Direct Sunlight and Storing in a Cool Place. Keeping in Refrigerate after Opening
Caution : If you have allergies, please consult your doctor before using this.
Daily use of South Korea's Red Ginseng can help with a healthy life and body.
South Korea's Red Ginseng is a natural supplement that has several health benefits which include:
– A potent antioxidant that can help to reduce inflammation.
– Help to fight off stress and increase energy levels.
– Help in the reduction of blood sugar – Lower blood sugar.
– Strengthen the immune system.
– Improve brain function. Benefit to students and the elderly.
What is red ginseng? There are many different types of hemp.
Red ginseng? Fresh ginseng? Wild ginseng? Camphor ginseng?
There are several types of ginseng, but the exact explanation of red ginseng is that red ginseng is called red ginseng, which is steamed and dried as it is in the skin after washing, steaming and drying. 
The efficacy of red ginseng and its effect on the body! Five functions of red ginseng approved by the Ministry of Food and Drug Safety:
– Boosting immunity.
– Improve fatigue recovery.
– Blood flow through inhibition of platelet aggregation.
– Improved memory.
– Antioxidative effect.