During this covid 19 pandemic everyone is affected daily in breathing fresh air. No worries as now Portable Oxygen Inhales is available to let everyone breath fresh and clean air again .
>99.5%

The product is composed of inhaler tank connecting valve, breathing mask, button and oxygen.

Mainly suitable for families, outdoor travel, plateau hypoxia, emergency

Those who are allergic to oxygen, hyperoxemia.

Product is safe and manufacture in Malaysia

Benefit of Breathing Oxygen :
– Helps in concentration and memory for students
– Helps in recovery post exercise
– Promotes health & wellness in elderly
– Improves sports performance and endurance
– Remedy for altitude sickness
– Helps during air pollution
-Emergency use if cant breath due to short of breath till medical team arrive.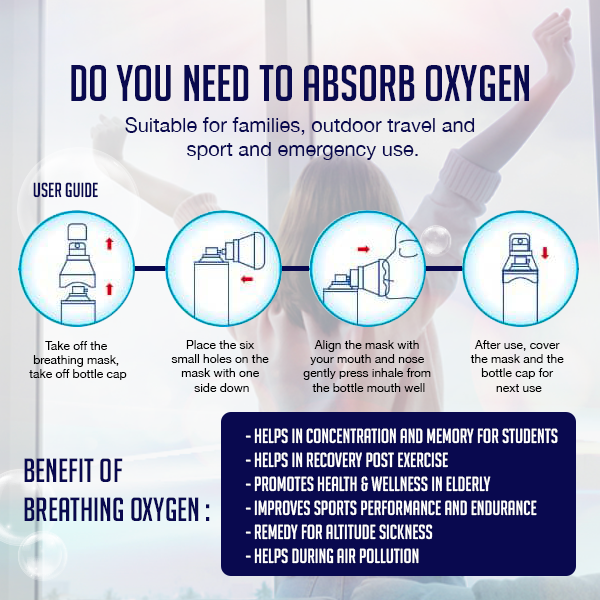 User Guide:
1. Remove breathing mask and bottle cap.
2. Put the mask on the bottle.
3. Align the mask to your mouth and nose, gently press the trigger button, inhale deeply & exhale normally. Release the trigger and repeat the step again for another shot.
4. After use, cover the mask and bottle cap to be stored for next usage. With the right instruction one bottle can be use up to 10min
**Take 3 to 5 inhalations per use or as required. Always administer oxygen to children under the supervision of an adult.
IMPORTANT NOTE:

This is not a prescription product and it is non-medical for daily use. If you experience prolonged shortness of breath, please seek  professional medical advice.
⚠️ Warning this product contain Aerosol and can't be ship to East Malaysia